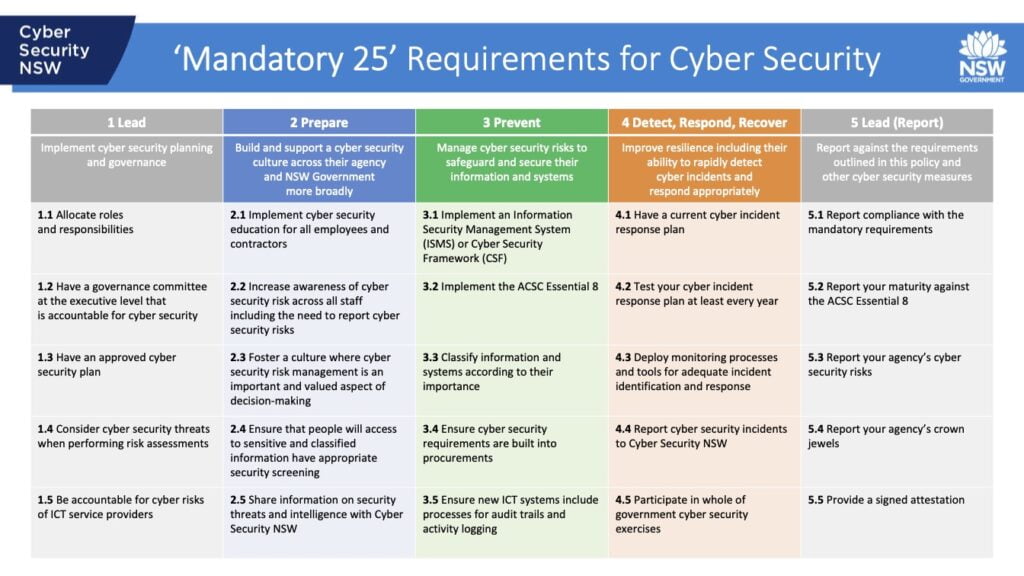 PASS – Mandatory 25 NSW Government report.
Mandatory 25 NSW Government requirements: Personally as an Australian by choice so proud to find out that the government of Australia is creating material like the "'Mandatory 25' Requirements for Cyber Security", proving that Australia is taking cyber security seriously across government at all levels.
I have attached the document to this post and I would advise any organisation looking to gain cyber resilience quickly that this is a great place to start, it is based on the ASD essential 8 (Australian Signals Directorate) which is a framework for improving (bootstrapping) cyber security programs across The Australian Public sector but is appropriate across all industry verticals.
If you want to learn more then click here: https://www.cyber.gov.au/acsc/view-all-content/essential-eight
Doing the basics right will make an organisation less prone to cyber attack than organisations who are yet to pick up the pace in gaining cyber resilience, no business needs to lead the pack but never be at the rear where the loins and crocodiles will pick you off one by one.
Click here if you would like help with this or any other cyber security issues
Speak with us today if you would like help with your cyber security progress