VMware software the next 12 months is going to be a roller coaster ride for the employees who are left behind and the customers, partners, Distributors. Not the roller coaster at Disney World, but the creaky coaster ride you are scared to take, but you think "what the heck" and just do it because your mates have egged you on. I have written previously about the Acquisition here.
Update here first part of making something mega profitable is changing everyone licenses over to Subscription immediately, "Broadcom to move all licenses to Subscription moving forward".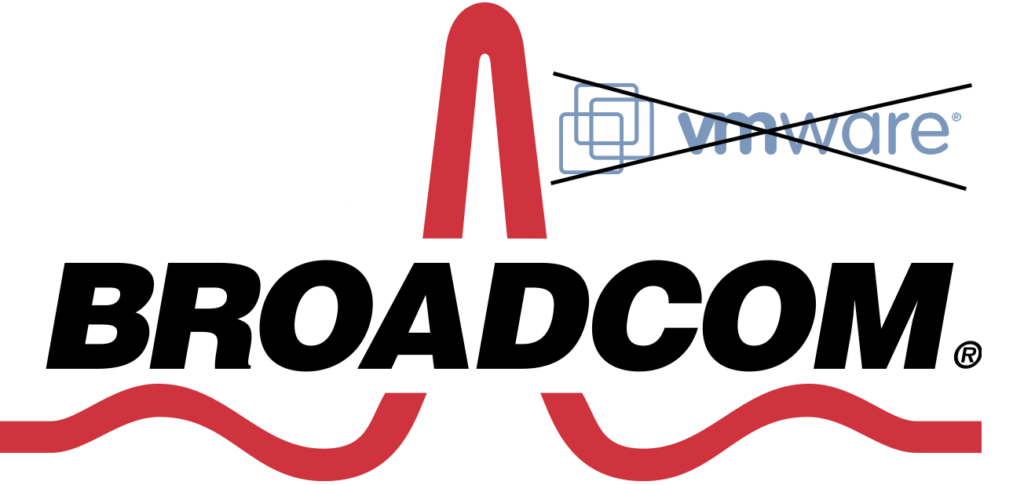 Brian Madden wrote a solid article on VMware recently and what it presents is a very straightforward opinion on the numbers of a post Broadcom owned VMware world. The key to how Vmware is going to change is in one statement from Hock Tan, and this is:
Broadcom to target adding approximately $8.5 billion of pro forma EBITDA from the acquisition within three years post-closing

Hock Tan
First up Broadcom buys company with great reoccurring revenues but they past their best days of growth, these are cashed up businesses with high ARR, they tend to be over resourced and can easily be optimised.
$3.5B to $8.5B; Three years to get there
There are way few ways to increase EBITA by over 2.5 times in three years, and none that a company of the scale of VMware could achieve without a revolutionary, probably world changing technology being released in the next couple of months.
Therefore the next 12 months of VMware progress according to the plan that has been laid out by Broadcom (as CA , Brocade and Symantec can attest to) in the past, is the same EBITA accelerating plan Broadcom intends to use with VMware – just as watching large budget "Vin Diesel" films, you know the formula and you know that at the end good conquers evil, the format is tried, true and tested.
Please prove me wrong in the comments.
Plot Twist: Whatever VMware management says is irrelevant. The action is with the Broadcom CEO's statement $3.5 billion to $8.5 billion in three years, this is not possible without a swift and concise action plan.
Sorry VMware staff, although the name of the software business will become VMware, the actions of the new company will be Broadcom through and through.
The 12 months post Broadcom acquiring VMware will include the following plans, these will all be kicked off with a speed of execution that will be most reminiscent of those who have experienced flash flooding, devastatingly fast, but with Broadcom as the "Act of God", it will be done.
VMware software the next 12 months
What does the next 12 months look like for VMware, as we know companies of VMwares size do not suddenly turn into high growth businesses.
Even Apple took years to turn a solid ship into a winner, but as Hock is going to get the $8.5 billion EBITA in 3 years there is more to this story.
here is only one way and a quick look through history shows us the Broadcom model. This will be no different.
Reduce staffing as quickly as possible by 70% minimum (history shows Hock has done this with CA, Brocade and Symantec) it does not matter how big a company is.
Focus on the largest customers, 30% of customers bring 70% of revenue

charge those 30% of customers, 10-20% more every year for the same Products.
Move customers to PLAs (portfolio Licensing Agreements) where there is no option to escape the 20% price increments annually.

Simplify the systems and consolidate into Broadcoms "Rough and ready" platforms, move to Broadcoms chosen Cloud platform, moving email etc into Google Cloud.
Remove all duplication across the board
Reduce Support services and move to India (unless support is already in India)
Broadcom has three categories of customer: Core, Digital and commercial. Core is the focus (400-500 globally) as they have big spends and tBroadco want all of these on PLA's so the customer is locked into big pricing – you can not leave a PLA, if you do your costs will be the same for fewer products.
Reduce office rental where possible and retrench people as much as possible in those offices due to the "No WFH policy"
Move all Commercial business to Distribution only. The Distributor basically owns the Broadcom products they sell, the have to fully support and manage, you are not a Broadcom customer if you are in the commercial space.

Reduce distributors to 2 (Westcon and Arrow), it does not matter if another Disti is selling millions of dollars of Broadcom Software.

Reduce products, sell off where not aligned to core money making operations.

Professional services is not Core, sell to HCL, TCS etc

Continually reduce staff at every possible juncture, read Thelayoff.com for further information on this.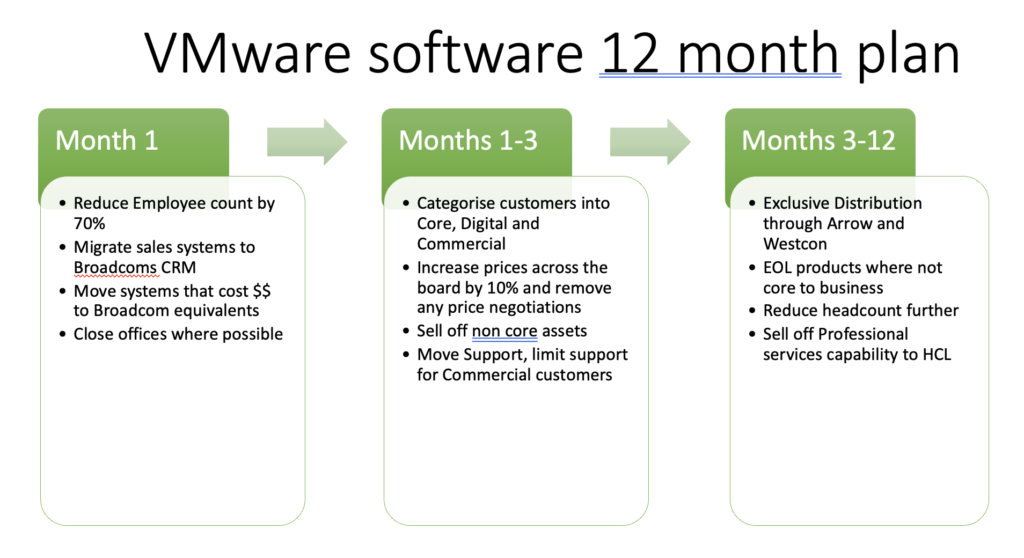 All of the above is the tried and proven model of the Broadcom organisation, the organisation operates at the Micro management level and Broadcom is hugely successful and all respect to the CEO Hock Ta as an operator of finances, the problem with Broadcom though is that there are real customers who use the products and real people who work in these businesses and real businesses that distribute and sell VMware products – Broadcom does not care 1% abut these operations and that is the problem.
Enterprise customers will not leave, they can not due to their investment. Small customers will leave because they will lose support – this is exactly what Broadcom wants.
I will eat my hat if I am wrong….. or run naked down the middle of the street (god help anyone who sees that!), Please contact us Here if you would like further insights or leave a comment in the comments section.